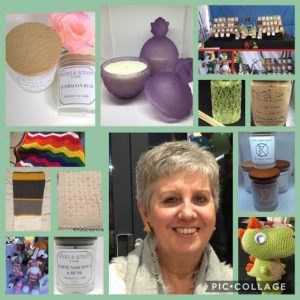 WHAT DO YOU MAKE AND SELL AT MARKETS?
My main product is the soy wax candles and melts and also scented reed diffusers. I use soy wax because it's such as easy wax to work with and it's also a natural product – it's made from the oil of soy beans.  I use a fragrance oil to scent the candles, melts and diffusers. I have also added crocheted items to my market stall.  These include soft crocheted animals, blankets, and beanies.
HOW LONG HAVE YOU BEEN DOING YOUR CRAFT?
I have been making the candles for about 7 years and crochet is a relatively new hobby – about 2 years.
HOW DID YOU GET STARTED?
It was actually my husband that suggested I try making my own candles, so I guess I have him to thank for my little business venture! I love having candles burning but couldn't justify the huge price of some big name ones. I purchased a candle making kit to start with and from there I was hooked.  It took a lot of testing to eventually get a product I was sure was safe and that I was happy to sell to others.  I still test wicks to make sure they burn correctly.
I started crocheting about 2 years ago and am basically self taught.  I love finding new patterns for the soft toys and seeing if I can create them.  My pattern and wool stashes continue to grow.  I am more than happy to custom make things for customers as well.
WHAT DO YOU LOVE ABOUT THE CRAFTS YOU MAKE AND ATTENDING VARIOUS MARKETS?
I have always enjoyed making things and now I get to share what I make with others and at a price that is affordable.  I enjoy being able to meet the people who buy my products, hearing feedback and seeing repeat customers also keeps me doing what I enjoy.
Another thing I enjoy is working with a customer to create a personalized label for the candles to celebrate a special occasion – birthday, weddings just about anything.
It's great to meet other stall holders and see what talents they have and where possible support their businesses as well.
About Me
I'm the creator of WICKS & SCENTS.  This little hobby/ business started about 7 years ago.  I'm a stay at home, full time carer for my husband who is a quadriplegic. Making my candles and crochet items is something that I can do from home in my spare time.   My aim when i started selling my candles was to provide a quality product that was affordable to everyone – nice smelling candles shouldn't be a luxury item.
It's great to see people appreciate handmade items.